Aloha!

Welcome to debaoki.com, home of Bento Box. It ain't glamorous, but it does the job (just like me.)
HOH, FINALLY YOU UPDATE 'DIS ONE!

Yeah, one of these days I'll spend a weekend and upgrade to WordPress. But until then, enjoy!
This week's Bento Box

My sister has this thing about her color coded sponges -- is this something that Martha Stewart has been teachin' her?

Last week's Bento Box

This one came about because I was grousing about my weekend laundry on Facebook, and got like, six replies, all saying "yeah, it's like that for me too! So thank you Facebook friends. This one's for you.

STILL WORTH CHECKIN' OUT! Press clips from Asian Week and Nichi Bei Times
Click on through to the Press section to see the latest interviews and press clips 'bout Bento Box and me from Asian Week, the Nichi Bei Times and the Hawaii Herald.


Check it out! Manga.About.com

My new Manga site for About.com is live! Visit manga.about.com and see what has been taking up my bandwidth lately. I've written a bunch of articles and reviews about one of my favorite things, Japanese comics. Do visit and enjoy!

Latest book: Slice O' Life and University of Diverse City
A blast from the past from me and my pal Jon J. Murakami -- Our new collaborative collection of our old comic strips from our University of Hawaii days is now available at a bunch o' Hawaii bookstores, Lulu.com and Amazon.com.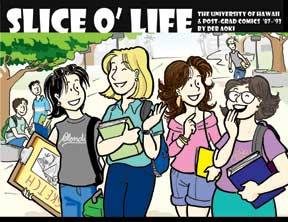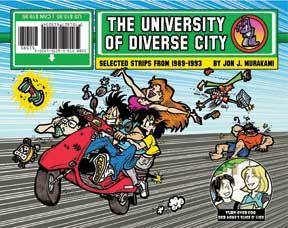 It's a 164-page double-sided collection, and includes the handy-dandy map of the UH campus, plus many classics from my post-punk/pre-grunge days, including "You'll Mosh to Anything," "Mainland Weather Martyrs" and "Why Wear Black?" Click the Lulu "Buy Now" link below to get your copy today!




Blog-o-rama
Seems everyone's got a blog nowadays, and I guess I'm no exception. Do visit my blog on MSN to see the latest comix:
http://bento-box.spaces.msn.com/

While you're at it, visit the Honolulu Advertiser's archive of past Bento Box strips from 2005 and 2006 and the latest Sunday strips:
http://the.honoluluadvertiser.com/current/il/bentobox

Press page
Check out the press page including some recent (and not so recent) reviews and articles about me 'n Bento Box.

Just another fool on MySpace
Okay, I finally caved in and got a MySpace page. Won't you be my friend?

Got questions or comments? Drop me a line at debaoki@hotmail.com!